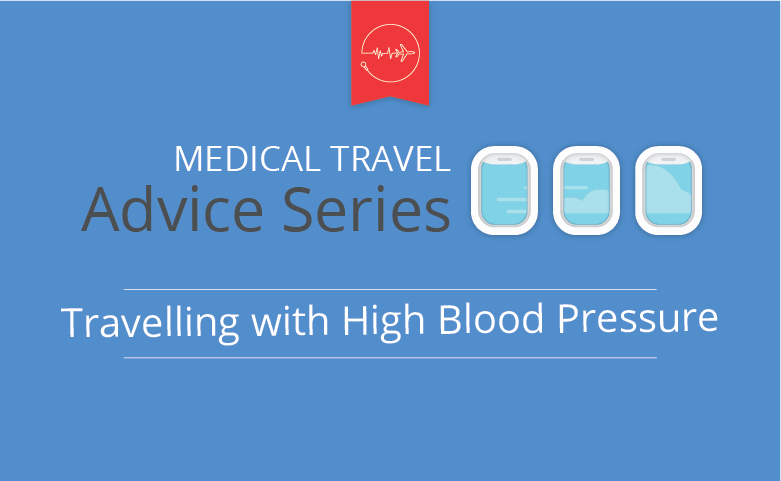 If your high blood pressure is under control, it should not prevent you from travelling or flying. However, you should still take precautions to maintain good health and prevent high blood pressure occurring when on holiday.
What is hypertension (high blood pressure)?
Hypertension is the medical term for high blood pressure. More than one in four adults in the UK have high blood pressure.
High blood pressure is when your blood pressure (the force of your blood pushing against the walls of your blood vessels) is consistently too high.
To find out if you have high blood pressure, visit your GP or local pharmacy to get your blood pressure checked.
What are the symptoms of high blood pressure?
High blood pressure is hard to detect and you may have it without realising. If your blood pressure is extremely high, you might experience symptoms like severe headaches, fatigue, difficulty breathing, chest pain and irregular heartbeat.
Risk of high blood pressure
High blood pressure puts pressure on your heart and other organs (brain, kidneys, eyes). If you have untreated high blood pressure you are at risk of developing serious conditions such as heart disease, kidney disease or a stroke.
Causes of high blood pressure
You are at risk of developing high pressure if you:
are 65 or over
are overweight (or obese)
don't exercise
drink excessive amounts of alcohol
smoke
have a relative with high blood pressure
Visit your doctor regularly to check your blood pressure, especially before travelling.
Flying with high blood pressure
It is safe to fly with high blood pressure if it is well controlled. However, you may experience some discomfort during your flight such as an earache. Your blood pressure is likely to rise as well, but this is normal. If your blood pressure is unstable or very high, then you should talk to your doctor before flying.
Rises in blood pressure
Aeroplane cabins have less oxygen. Less oxygen in the blood can lead to high blood pressure.
If you already have high blood pressure, you are at a higher risk of developing heart failure, coronary artery disease, and other health conditions. This doesn't mean you can't fly, but you must take precautions to lower your risk.
Avoid salty food or drinking alcohol. If you take blood pressure medication, pack it in your carry-on so you can take it as needed.
Deep Vein Thrombosis
Deep vein thrombosis (DVT) occurs when a blood clot forms in the leg. The clot can break off and move through the blood to your brain, lungs or heart (causing an embolism). Flying puts you at higher risk of developing DVT since it limits your mobility.
You can take precautions to keep your blood circulating as normal, these include wearing comfortable and loose-fitting clothing, bending and straightening your legs, massaging your calf muscles, and walking up and down the aisles.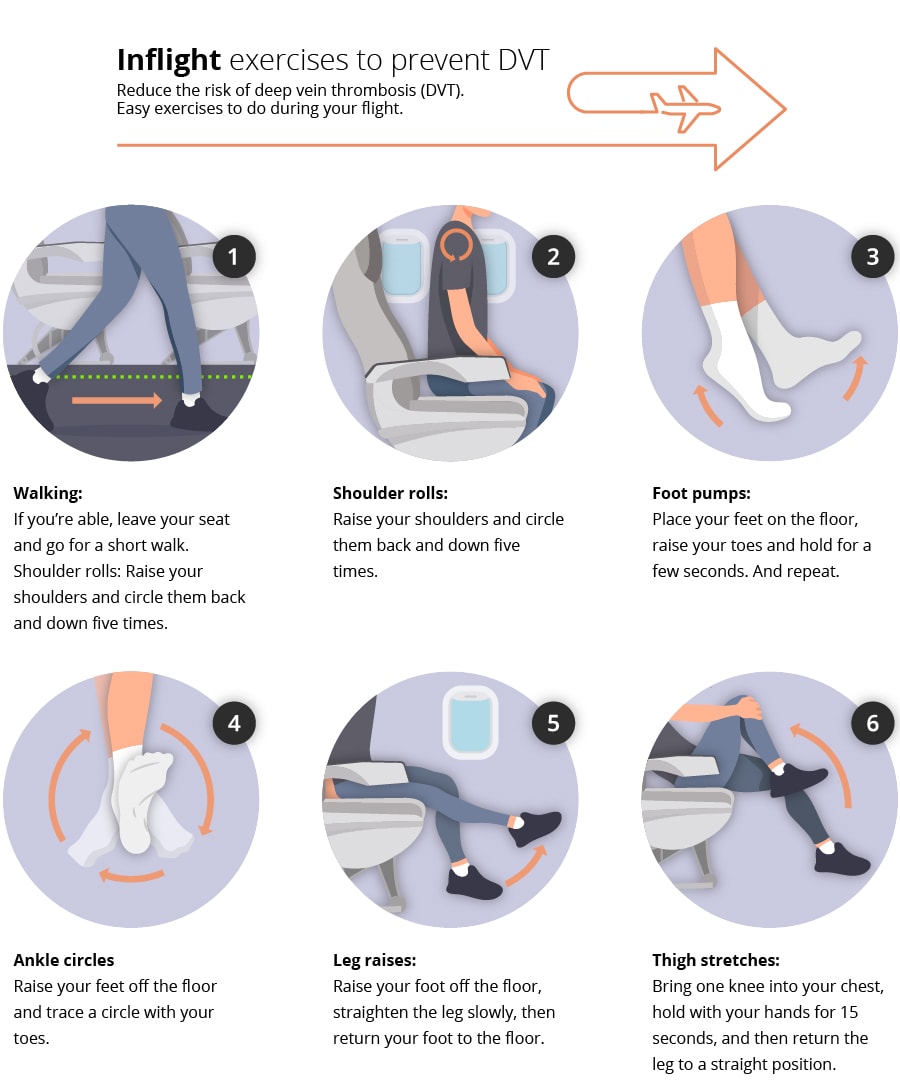 Earache or temporary hearing loss
Why you fly, you might experience a painful earache or temporary hearing loss to due to the rapid change in altitude as the plane takes off and lands. There are some things you can do to avoid a painful earache.
Try swallowing which will cause the air pressure in your ear to equalise, chewing gum or sucking on hard boiled sweets, yawning, and drinking lots of water.
What to consider before planning your trip
Choosing a holiday destination
If you have high blood pressure, deciding on a holiday destination may be challenging, as you may have health-related concerns to consider. Use the gov.uk website for travel advice by country.
Environment
When choosing a holiday environment, think about the symptoms and what makes these worse.
Extreme heat can cause dizziness or fainting, and risk dehydration. Hilly places require you to be physically fit and can make you breathless. Are there adequate amenities (you may take diuretics and need to use the toilet frequently).
Accommodation
Does your accommodation suit your access needs? Do you need to avoid flights of stairs or need to use a lift? Choose ground-floor accommodation. Contact your preferred accommodation to check what help will be available to you.
Altitude sickness
Travelling to high altitudes (5,000 to 11,500 feet above sea level) can raise a person's blood pressure. At high altitudes, the blood in your body works harder to pump oxygen. This stress can cause high blood pressure.
However, if you have already booked your trip, there are ways to manage your blood pressure at high altitude. Experts recommend only light physical activity to avoid putting a strain on your heart. You should avoid climbing more than 300 meters per day when in high-altitude locations to reduce breathlessness.
If you are yet to book your trip, you should avoid countries with high altitude. Countries like:
And be especially careful if you're staying in mountainous regions such as the Alps.
If your high blood pressure is under control, and you take some precautions, travelling at high altitudes shouldn't be a problem.
Preparing for your trip
Speak to your GP
Visit your GP eight weeks before you travel to discuss your travel plans. Your doctor will check your blood pressure and determine if it is suitable for you to fly. If you are considered unfit to fly, your GP will advise you on how to change your travel plans to suit your needs.
Prepare your medication
If you are taking blood pressure medication and your journey will involve you being away from home for more than a couple of weeks, make sure you have enough medication to last the duration of your trip—usually enough for your holiday plus an extra week. And never put them in your checked-in luggage, if your case is lost or stolen, you'll lose all your medication. Always store it in your carry-on.
Remember to pack your blood pressure monitor, especially if you have high blood pressure (pulmonary hypertension) or your blood pressure isn't well controlled. A blood pressure monitor ensures that your blood pressure remains within a safe range.
Travelling checklist
It may be helpful to carry the following with you in your hand luggage:
your passport
your EHIC card
your insurance documents
your prescription or a list of your medication
a letter from your GP or specialist explaining your condition (if required)
any tests results you think might be important (ECG record)
a portable blood pressure monitor (if needed)
oxygen if you suffer from pulmonary hypertension
flight socks
travel sickness medication
Healthy snacks and water
High blood pressure and travel insurance
Do I need travel insurance if I have high blood pressure?
If your blood pressure is normal, but you have had high blood pressure previously, or you use medication to keep your blood pressure low, you will need to declare it as a pre-existing medical condition.
If you have complications abroad and haven't declared your condition, your claim may be invalid. It is vital that you state your pre-existing condition even if your blood levels are normal.
How to apply for travel insurance
We make it easy for people with high blood pressure to find insurance. Take our blood pressure questionnaire. Our questionnaire will ask you to enter your details and answer any questions relevant to your condition. Your answers allow us to assess your current health condition and list suitable insurance options, which means we'll do the searching for you.
Apply for an EHIC medical card
If you're travelling in Europe, make sure you own a European Health Insurance Card (EHIC card). The EHIC card protects you from expensive medical bills and may allow you to receive free or reduced-cost health care.
Visit our EHIC card page for details about how to apply, renew or replace an EHIC card plus a comprehensive list of countries it's accepted in, and the circumstances it covers.
Travelling with children with high blood pressure
Children of all ages (from birth to teens) can have high blood pressure. Just like high blood pressure in adults, it's hard to spot and often goes unnoticed. Children with high blood pressure should be treated the same as adults when travelling.
If your child has a history of high blood pressure or takes medication to control it, consult your GP about your travel plans.
When not to travel with high blood pressure
As long as your blood pressure is controlled, you should be able to travel as normal. Check with your doctor if you are unsure about how fit you are to travel.
What do the different blood pressure readings mean?
If your blood pressure is higher than 120 over 80, seek medical advice before you travel.
Enjoy your trip!
Having high blood pressure should not stop you from enjoying a globe-trotting lifestyle. Travelling abroad, including flying, is generally fine if your high blood pressure is well controlled.