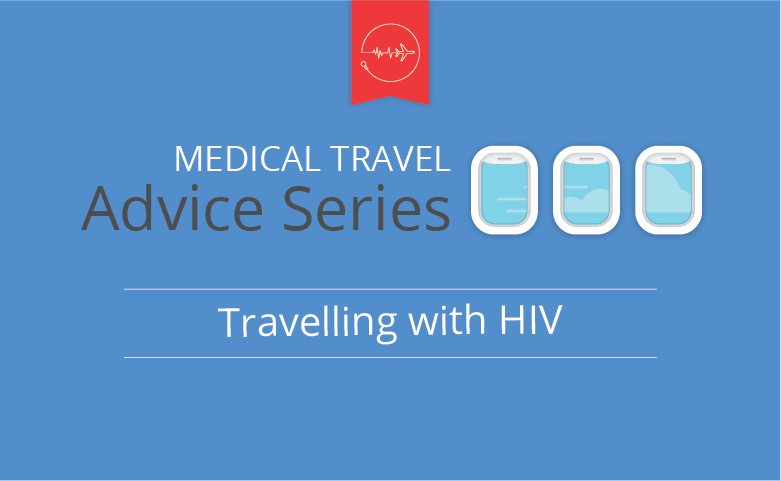 Table of Contents
Travelling abroad can be hazardous for anyone, but if you are travelling with HIV, you might have concerns about medical travel bans or protecting yourself against viral disease.
We've compiled a step-by-guide that tells you everything you need to know about travelling with HIV, including travel restrictions, how to protect yourself against viral diseases and how to get travel insurance.
What to consider before planning your trip
By carefully researching your destination and planning for potential restrictions, you can reduce the risk of travel-related problems.
The risks of travelling with HIV
People with HIV have weakened immune systems which means they're at risk of catching disease and serious illness when travelling. Visiting developing countries can increase the risk of infections like cryptosporidiosis, which can be fatal for people with HIV.
Fighting infection - cryptosporidiosis
Cryptosporidiosis (crypto) is a diarrheal disease caused by microscopic parasites, usually found in developing countries. For HIV-Positive people with a weak immune system, crypto can be severe, long-lasting, and sometimes fatal.
Cryptosporidiosis is transmitted through ingestion of faecally contaminated food or water, including pool water swallowed while swimming, or from person to person (e.g., while changing nappies or caring for another infected person).
You should avoid the following:
Tap water or ice made from tap water
Unpasteurised dairy products
Raw or undercooked meat or street food
Raw vegetables or fruit you haven't peeled yourself
Bottled drinks that haven't been opened in front of you
Any food from a street vendor
Symptoms of cryptosporidium appear within a week after infection and may include:
Watery diarrhoea or irregular bowel movements
Dehydration and lack of appetite
Weight loss
Stomach cramps or pain
Fever and nausea
Vomiting
Seek medical attention immediately if you experience any symptoms.
HIV restricted countries
Some countries have restrictions on travel for people living with HIV, even for tourists and short-term stays.
Request information from your embassy
Restrictions are not always consistently enforced and can change with little notice. Visit your local Embassy and request free information about travelling with HIV. You can also find out about travel restrictions in other countries.
HIV restrictions by country
Restrictions differ from country to country, and others have no entry restrictions for tourists at all.
Here's a list of the most popular tourist destinations and their potential restrictions.
Australia: No restrictions for tourists. HIV testing for permanent visa applicants over the age of 15 is required.
USA: No restrictions for people with HIV/AIDS.
Germany: No specific entry regulations for people with HIV/AIDS.
India: No restrictions for HIV positive visitors. No questions relating to a potential HIV infection are asked when individuals apply for a visa, residency or work permit.
Japan: No specific entry or residence regulations for people with HIV/AIDS.
Mexico: No specific entry regulations for people with HIV/AIDS (neither for immigrants nor for tourists).
Philippines: No restrictions for people with HIV/AIDS.
Singapore: No restrictions for tourist stays up to 90 days.
Thailand: No restrictions for people with HIV/AIDS.
Countries with short-term restrictions for people with HIV
Dubai: Short-term tourist stays are possible but with some risk. HIV medication cannot be imported.
Qatar: An HIV test is required for everybody intending to stay for more than one month.
Russia: An HIV test is required for a multiple entry visa.
Saudi Arabia: There is HIV testing on entry. HIV-positive foreign nationals are expelled.
Jordan: People with HIV/AIDS are not permitted to enter Jordan.
Iraq: All stays beyond 10 days require an HIV test.
The HIV Global Database has information on travel restrictions for every country.
Preparing for your trip
Consult your GP before you go
Consult with your doctor eight weeks before you travel. Your doctor might advise against travel if you have a health issue or if you're about to change treatment.
Ask your doctor for a signed letter explaining that you need your medication for a chronic condition. You will need this letter to declare the medication in your luggage.
If you are travelling for 90 days or more, speak to your HIV specialist. You may need adequate medicine to cover the length of your trip.
Make a note of the time zone of your destination and ask your GP for advice on how to manage your medicines. Check the Nam Aids Map for helpful advice about switching time zones.
Your treatment regime might include side effects. Make sure you can manage your side effects during travel. Remember to pack anti-sickness pills and anti-diarrhoea medication if required.
Prepare your medication
Make sure that you can store your medication safely while you're travelling. Check the labels on all medicine bottles carefully. Keep all medicines in their original packaging. Take all the paperwork for your medicine with you, including pharmacy details, your name and address.
Research the quality of tap water in the country you're travelling to. It helps to keep a bottle of mineral water close by when it's time to take your medicine.
If you need to take your medicine with a meal, stock up on snacks. Cereal bars, biscuits and crackers are easy to eat and don't need refrigerating.
Take an extra supply of medication for your trip, enough for your holiday plus an extra week. And never put them in your checked-in luggage, if your case is lost or stolen, you'll lose all your medication. Always store medicines in your carry-on. However, don't take excessive quantities, as customs and immigration officials may decline your entry.
If you are travelling by plane, you should carry your medicines in their original packaging, clearly marked with the prescribing information.
You're allowed to carry essential medicines of more than 100ml with supporting documentation from your GP or a copy of your prescription.
Use the Aids Map to find information about local HIV clinics and charities in the place you're travelling to.
Get Vaccinated
Talk to your doctor about your travel destination. Your doctor will recommend the type of vaccines you will need for your trip.
Nowadays, most HIV-positive people can have the majority of live vaccines. However, there still are exceptions.
Some live vaccines, like the tuberculosis vaccine and smallpox vaccine, are not recommended for people with HIV. Live vaccines contain a live form of the disease.
Although the chance of getting the disease is slim, live vaccines can trigger an immune response. People with HIV typically have a weakened immune system, and this can reduce the body's response to a live vaccine.
Some vaccines are available in live and non-live versions – typhoid vaccine should be taken in its non-live form.
Vaccination does not guarantee protection. You should follow additional advice from your doctor on preventing infection.
Learn more about travel vaccinations for people living with HIV on the Terrence Higgins Trust Website.
Mosquitos
Insect-borne diseases are viral and bacterial illnesses from insect bites. The most common insects that pass on disease are mosquitoes.
If you're travelling to an area where insect-borne diseases are common (Africa, Brazil, Thailand, Indonesia, Philippines and Australia), you must take every precaution to protect yourself by:
using insect repellents
Wearing loose fitting clothing and covering skin at all times
using mosquito nets at night
using mosquito screens to protect your room at night
switching on the air conditioning
Follow this mosquito avoidance plan by Fit For Travel.
HIV and Travel Insurance
HIV travel insurance is often expensive and confusing, and some insurers make it difficult to find cover, especially if you're travelling overseas for more than 90 days. We can help.
How to arrange travel insurance
To receive an insurance quote from us, take our quick HIV questionnaire. You'll be asked some questions relevant to your condition, this is normal. Your answers to the medical questions help us to assess your current health status and list suitable insurance policies for HIV-positive travellers.
Apply for an EHIC medical card
Avoid expensive medical bills if you're travelling in Europe by registering for a European Health Insurance Card (EHIC card). If you fall ill or get injured while on holiday in Europe, you can use the EHIC card to receive free or reduced-cost health care.
For information on how to apply, renew or replace an EHIC card, visit our EHIC card page. It's also where you'll find a comprehensive list of countries it's accepted in, and the circumstances it covers.
When not to travel with HIV
If you have HIV, it is reasonably safe to travel. However, people with HIV have a compromised immune system which can increase their risk of contracting opportunistic infection (from mosquitos, contaminated food and unclean drinking water). To eliminate your risk of disease, avoid tropical climates and developing countries.
Enjoy your holiday
Travelling abroad takes planning. Vaccinations, travel insurance and tropical diseases are issues for everyone, but for people living with HIV, they need careful thought. Use our guide to stay safe when travelling and most of all, enjoy your trip!